New features in version 2.3.1
In addition to the standard "behind the scenes" improvements, version 2.3.1 is introducing an incredibly useful new feature. Smart Scoring is another huge step forward for udu in simplifying the user experience for Find Businesses.
Smart Scoring
udu already has 2 methods for scoring companies in the final results from Find Businesses: Keyword scoring and Stats scoring. Keyword scoring being the score generated from the values that you assign for each keyword and Stats scoring is udu's attempt at classifying companies as good or bad based on a company's similarities to other good companies.
Now, with Smart Scoring, udu provides a third scoring model that will get better and better over time as you tag more companies as good and bad. Smart Scoring learns over time the importance of your provided keywords to a particular industry and provides the most advanced scoring model that udu has offered up to this point.
To take advantage of Smart Scoring, just start tagging companies as good and bad. Once some companies are tagged, you can either perform a rescore on the current run to see how Smart Scoring will impact that geography, or you can move on to your next geography and Smart Scoring will be applied. Smart Scoring will get smarter and smarter the more companies that you tag, so it is a good idea to tag a portion of the list for each of your runs, especially early on for the first few runs.
Additionally, it is important to have enough keywords in your model for Smart Scoring to be effective. Through all of our beta testing, we noticed that successful models were starting to have a lot more keywords than we previously had before Smart Scoring. You definitely want to make sure to have a good amount of negative keywords so that Smart Scoring can effectively move the bad companies towards the bottom of the list. Be sure to check out and use the Keywords tool that was completely redesigned in Version 2.1.1.
To see the results of Smart Scoring, just click View results for the run, and then you can click the Smart score header in the table to sort.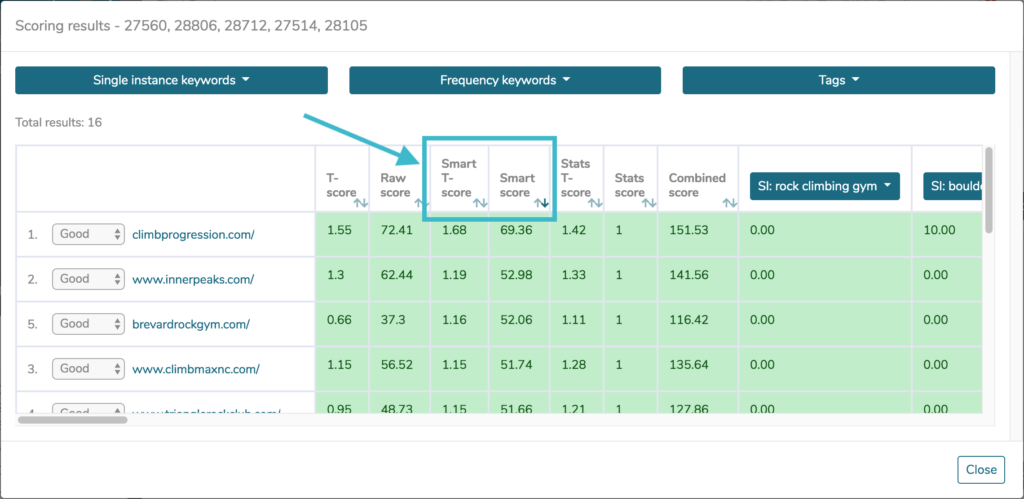 The implications of this scoring model are big as we continue to take steps forward to automating the process of deal discovery. Stay tuned because we have very exciting features in the works.