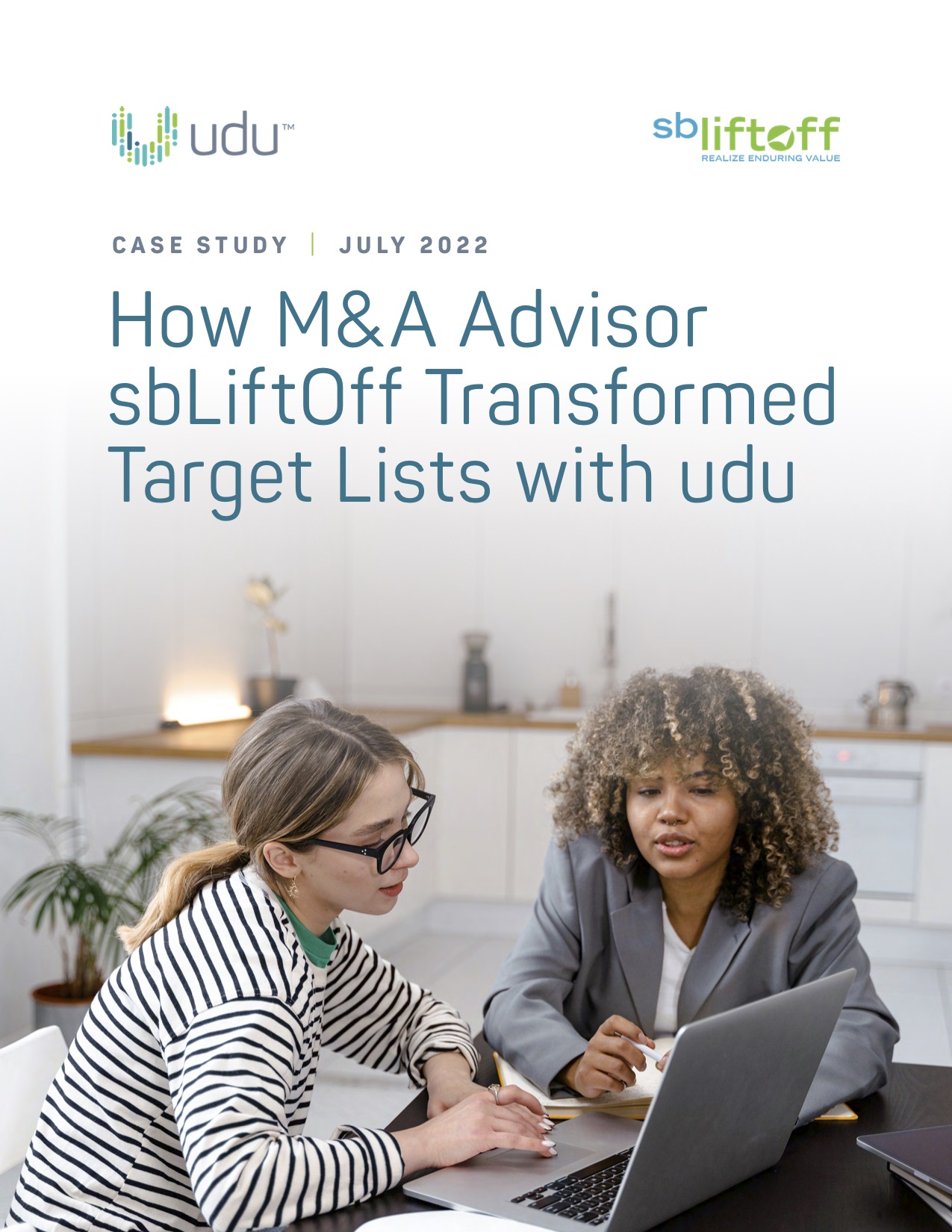 M&A Advisors to Private Equity: Using AI to Create Efficiency and Drive Success
M&A advisors to private-equity firms are in a race against time and the competition. You need to source unique deal leads quickly, often across several different industries. In a market where there's a record amount of 'dry powder' looking for great companies to acquire or invest in, PE firms increasingly find in-house resources inadequate. As a result, PE firms are turning to M&A advisors as they seek to outsource some of their business development activity.
The intense competition to fill this need has brought more M&A advisors into the fray, seeking to get and keep PE clients. It's become an intense struggle for M&A firms seeking to build deep relationships with private equity firms.
With more advisors now seeking PE clients, M&A firms are jockeying to become their PE clients' go-to source for improved deal flow. The ideal is an ongoing relationship with PE clients, not one-off projects.
How can your M&A advisory stand out in a crowded field and build those long-term relationships? Leading-edge M&A firms are using sophisticated artificial intelligence tools to rapidly identify prospective acquisitions–and to zero in on the best candidates. With most M&A advisors still hand-vetting long lists of possible companies, AI offers a distinct competitive advantage.
How one M&A advisory grew revenue with AI
A recent example of an M&A advisor that's made inroads using AI as a business-development tool is the firm sbLiftOff. The Herndon, Va.-based advisory used the AI tool udu to identify and screen candidates that met their PE clients' acquisition parameters.
Over the course of its first year using udu, sbLiftOff's team learned how to fine-tune the tool to pre-screen large lists of potential prospects to find the top candidates. Instead of hand-vetting hundreds of possible acquisitions, sbLiftOff could now do in-depth due diligence on just the most promising candidates. This allowed the firm to speed up its timeline to finalizing decisions on which acquisition targets to present to their PE clients.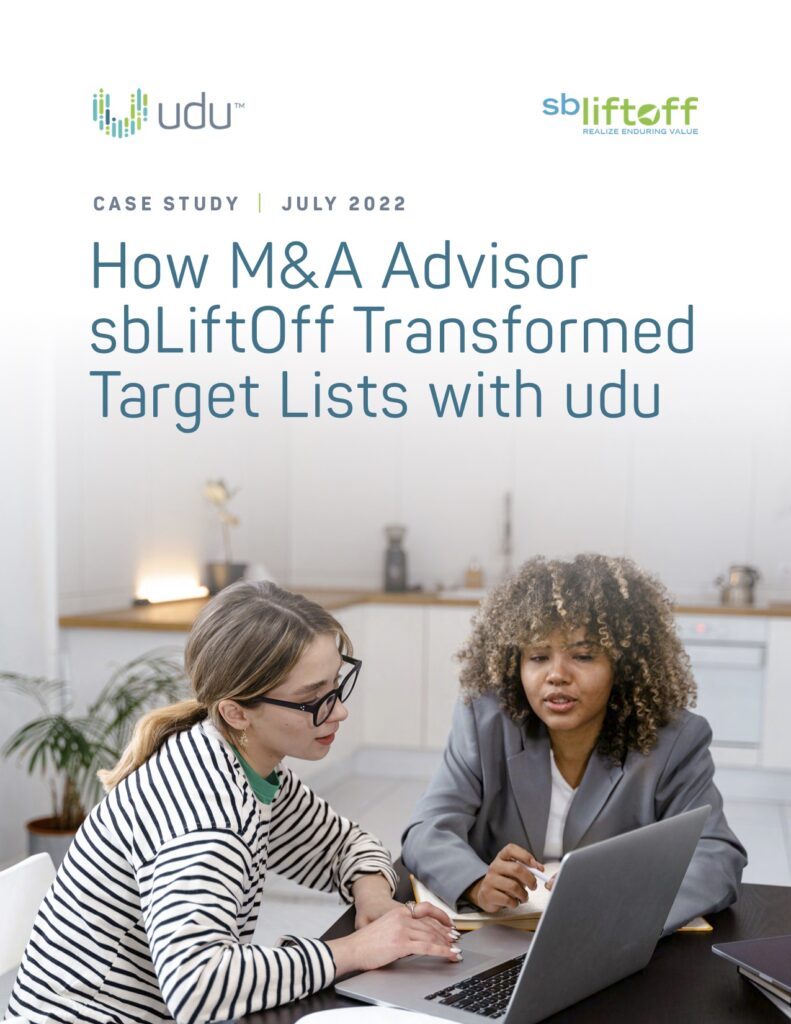 With the help of udu's curated target lists, sbLiftOff's private equity clients have closed four deals to date.
The result? In the first year using udu, sbLiftOff saw its private-equity clients close four deals with prospects the M&A firm identified. sbLiftOff's COO Kiley said "use of udu was a clear win. Fees from the deal closures were "a significant contributor to firm revenue."
sbLiftOff's leadership quickly found udu was far more efficient than business development done the old-fashioned way–namely, by using their in-house team of researchers to hand-vet companies found through traditional internet searches. The firm simply couldn't remain competitive using legacy business-development methods, she says.
More advantages of using AI for business development
For sbLiftOff, AI-assisted research meant identifying better leads faster, resulting in more closed deals and increased firm revenue. But AI offers more than simple time savings.
Among the additional benefits sbLiftOff saw to using udu:
Deeper PE relationships. sbLiftOff saw more of its initial PE projects result in ongoing work, as they became a trusted resource for acquisition leads. "PE firms are proactively coming back, asking us to find more opportunities for them," says COO Kiley. More repeat work meant less effort needed to be spent on networking to find new PE clients.
Build diverse industry knowledge. Working in multiple industries is a challenge for M&A firms. Most advisors have expertise from the industry where they spent their careers. Using udu, sbLiftOff was able to rapidly acquire in-depth insights in a wide variety of industries, from medical staffing to aerospace to defense manufacturing and more. This broadened the firm's horizons and allowed it to serve more diverse PE firms with needs in different industry niches. udu "allowed us to work across and build knowledge in multiple sectors," Kiley says.
More effective marketing to leads. Because udu helped sbLiftOff more precisely identify acquisition targets, its marketing campaigns were better targeted and saw higher response rates. Now, 65 percent of targets who reach out to sbLiftOff mention that they did so due to the company's marketing campaigns, Kiley reports.
More repeat business with existing PE-firm clients. Increased expertise across multiple sectors that broadens their customer base. Improved marketing efficiency. Using udu optimized each aspect of sbLiftOff's advisory work.
The M&A advisory edge
While PE firms are often thought of as the organizations that can make best use of AI for deal flow, in some ways M&A advisors are in an even better position to benefit.
Why? PE firms engage in many activities, not just acquisitions. They work with their portfolio companies on growth, sell companies they acquired in the past, meet with fund investors, and more.
By contrast, buy-side M&A firms spend 100 percent of their time identifying and qualifying acquisition targets. That means using AI to accelerate their business-development process improves results in every aspect of an M&A firm's business.
Wondering if AI could help your M&A firm? Contact Salvatore Gallo for an introduction to udu.